Pro PALOP-TL SAI Massive Open Online Courses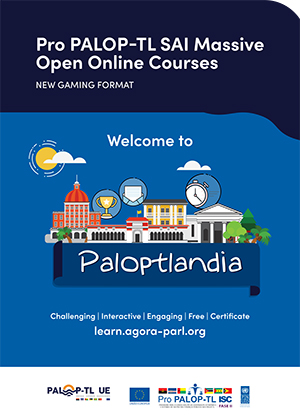 The Pro PALOP-TL SAI Online Courses ("eCourses") offer is innovative, both in terms of the content conveyed and the visualization/application of this content. From a content point of view, the particularity of these eCourses is that they are "applied": based simultaneously on empirical evidence and theory, providing comprehensive guidelines, good practices and theories. The eCourses have a strong component of context and professional practice, largely because they are designed based on Communities of Practice organized and training given in the 6 PALOP-TL by the Pro PALOP-TL SAI expert team, experts and academic partnering with the programme.
On the one hand, the eCourses can be applied in a "self-paced" modality, with the visualization of online contents, autonomously and according to the individual availability of the users; as well as in a blended modality, in a controlled environment, in a classroom, where accredited facilitators are responsible for delivering the courses. On the other hand, the eCourses can be delivered in a "classic" format, via traditional content delivery. However, they can also adopt an innovative format, with an approach to learning based on online gaming, thus increasing interactivity and user engagement and, consequently, leading to more efficient learning. This approach allows the new Pro PALOP-TL SAI eLearning courses to also be used as a great advocacy/awareness tool, expanding their use beyond the confines of the traditional user group.